CER Webinar December 13, 12:30-1:30pm, CER Introduction for Non-ACoS Hospitals and Independent Contractors, Recording (17 MB, 26 Minutes, WMV format), Slides, Handouts

Florida Cancer Data Systemís Contribution to:

"Enhancing Cancer Registries for Comparative Effectiveness Research"

In August of 2010, the Florida Department of Health (DOH) received funding for the FCDS to be one of ten central registries in the United States included in a new project titled: "Enhancing Cancer Registries for Comparative Effectiveness Research (CER)." Funded by the Centers for Disease Control (CDC) through the American Recovery and Reinvestment Act, the project provides a unique opportunity to expand the current data collection of state cancer registries to obtain detailed data designed to address specific CER questions targeting cancers of the breast, colon, and rectum, and chronic myeloid leukemia diagnosed in 2011. In addition to regularly collected cancer registry information, data capture will be expanded to collect data on biomarkers and more detailed information on systemic treatment regimens/drugs for comparative effectiveness research. Florida DOH and FCDS plan to use this advanced reporting practice for ongoing surveillance. Below are some additional details on the CER project.

What is Comparative Effectiveness Research?

The Agency for Healthcare Research and Quality describes CER as:

"Comparative effectiveness research is designed to inform health-care decisions by providing evidence of effectiveness, benefits, and harms of different treatment options. The evidence is generated from research studies that compare drugs, medical devices, surgeries, or ways to deliver healthcare." 1

References:

1. "What is Comparative Effectiveness Research?" AHRQ Effective Health Care Program. Agency for Healthcare Research and Quality, U.S. Department of Health and Human Services. Accessed on 10/10/2011. http://www.effectivehealthcare.ahrq.gov/index.cfm/what-is-comparative-effectiveness-research1/

What cancer sites will be collected?

Regularly collected cancer information as well as additional treatment information will be collected for cancers of the colon, rectum, breast, and chronic myeloid leukemia diagnosed in 2011.

Data Collection Targeted Areas

Data will be collected from only five counties: Miami-Dade, Broward, Palm Beach, Hillsborough, and Orange counties. These counties were chosen because the collective county population represents approximately 70% of the Hispanic population in Florida.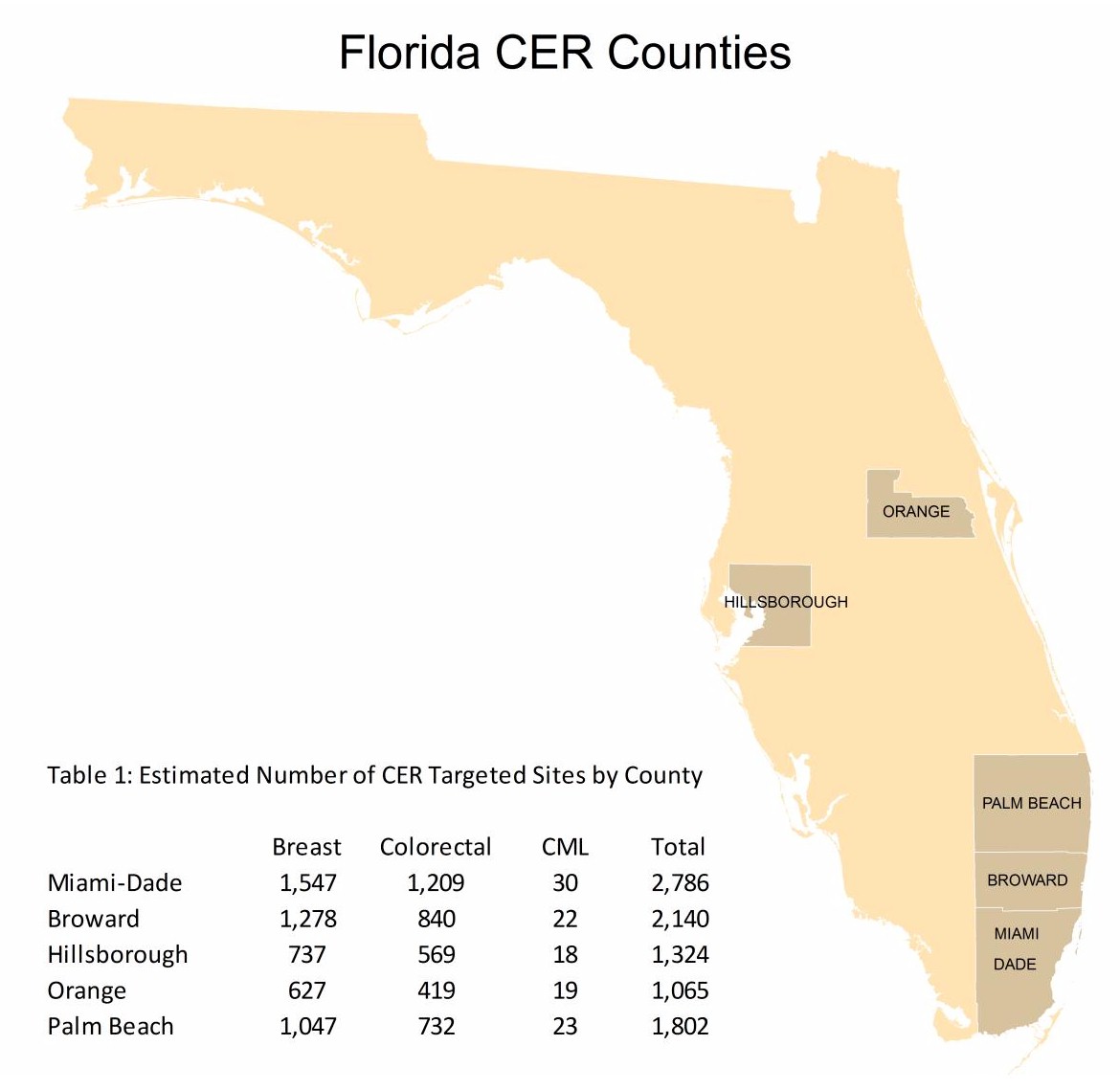 Data items to be collected
The dataset will be based on regularly collected cancer registry data, including patient characteristics, tumor characteristics, and type of treatment received but will be expanded to collect additional data on biomarkers and more detailed information on systemic treatment regimens/drugs.
What work will be required by hospital and physician staff?
The objectives of the CER project are not necessarily tasks that will be performed by the hospital or physician staff. In actuality, there should be little additional work apart from helping FCDS navigate the facilities and identify key personnel in select departments/offices.
Is participation in the project voluntary?
Participation in the project is not voluntary. All CER project activities fall under the existing Florida Department of Health authority to capture and report cancer data. Current Florida statutes exempt DOH and FCDS from HIPPA restrictions as registry activities are in direct line with the legislatively mandated surveillance of cancer. As such, participation from healthcare facilities in the five CER counties is not voluntary. However, FCDS will assume almost all of the data collection responsibilities for the project. Little effort will actually be required of hospital and physician staff in the five CER counties, apart from navigational support and access to select facility patient records. Registrars and abstractors can provide additional support by prioritizing the reporting of the four CER cancer sites.
Who will be in the field working with CER facilities for data collection?
The FCDS has hired three CER QC Outreach/Coordinators. They will be the liaisons and data collectors for the CER project. The coordinators and their targeted areas are listed below.
CER Questions to Be Addressed
CDC working together with the Agency for Healthcare Research and Quality identified four Comparative Effectiveness Research questions to address through this data collection effort:
Are colorectal cancer patients tested for KRAS and are the results used appropriately to determine treatment? What impact does KRAS testing have on 2-3 year survival among colorectal cancer patients?
Are chronic myeloid leukemia (CML) patients being tested for the BCR-ABL2 gene and receiving appropriate treatment according to those results?
Are women with breast cancer being tested appropriately for HER2, progesterone receptor (PR), and estrogen receptor (ER) status and are they being treated appropriately?
Are rectal cancer patients receiving radiotherapy and what is the timing of radiotherapy? Are disparities apparent in the appropriate neo-adjuvant use of radiotherapy among these patients?
What other states are involved in the CER project?
The other CER states are Alaska, California, Colorado, Idaho, Louisiana, New Hampshire, North Carolina, Rhode Island, and Texas.
Additional Resources:
Data Collection Incentive Program for South Florida Hospitals
CER Hospital Survey link: https://www.surveymonkey.com/s/CER_Incentive
CER Incentive Program webinar on 7/17/2012, Recording (19 MB, 22 Minutes, WMV format), Slides
CER Data Entry Demonstration webinar on 8/22/2012, Recording (78 MB, 52 Minutes, WMV format), Slides
For additional questions and inquiries please contact:

Monique N. Hernandez, PhD
CER Project Manager
Florida Cancer Data System
MHernandez5@med.miami.edu
305-243-9673


Haiyan Maier, MS
DOH CER Project Coordinator
Florida Department of Health
Bureau of Epidemiology
Haiyan.Maier@flhealth.gov
850-245-4444 ext. 2432